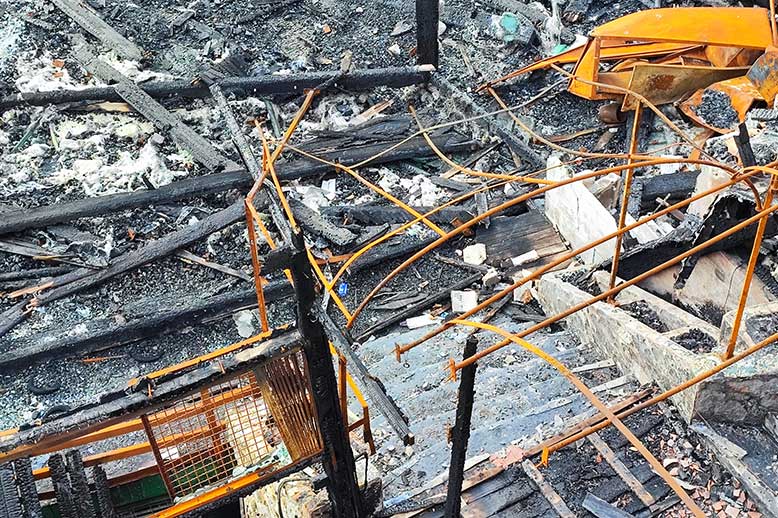 Top-Notch Fire Damage Restoration Services Within Your Reach In Central & Western Massachusetts
Our primary goal is restoring your home or business after a fire to its pre-fire condition. As a leader in fire restoration, we specialize in fire and water damage restoration, smoke odor removal, and deep soot cleaning of walls, carpets, and upholstery—a piece of furniture.
We serve the following areas:
We Can Help In Performing Aftermath Of Fire Damage
Our comprehensive fire restoration services begin with building safety and continue with fire odor removal and total damage reconstruction, cleaning, and transportation. We will take outstanding care of your furniture, rugs, and other belongings for maximum recovery without damaging any products. After notifying a professional of the situation, a team will go to the scene to assess the damage caused by the fire. Our team will carry out tests and assessments to analyze the severity of the destruction and come up with a perfect course of action to combat the damage.
We Help You In Getting Back To Business After A Fire In No Time
As a business owner, you are familiar with underlying losses likely to occur from any interruption or downtime of your business. We have excellent loss teams and our local experts from Rueli Builders LLC. These highly trained professionals understand your unique set of issues regarding fire damage and respond to your call right away. Our mission is to help you get your business back up and running as quickly as possible after a fire. We will support you in navigating through the insurance claims process and coordinating the necessary paperwork for a faster and easier experience.
Why Choose Rueli Builders LLC
Our professionals are committed to making the experience as straightforward as possible for both the owner and the insurer. We concentrate on your needs and work closely with everyone involved to reduce the burden of fire and smoke damage. Every aspect of restoration and remediation is done with meticulous attention to detail, impeccable documentation, and exceptional service, and we'll treat your home and property with the respect and consideration it deserves.